Seven Ways To Celebrate World Breastfeeding Week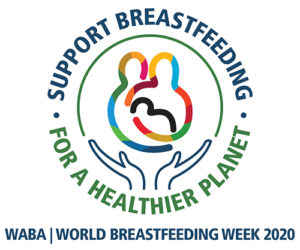 World Breastfeeding Week (WBW) is recognized each year from August 1-7. This year's theme is "Support breastfeeding for a healthier planet."
Over the years, La Leche League has often shared the environmentally friendly aspects of breastfeeding. The La Leche League GB (Great Britain) website stated in an article titled "Breast milk and the Environment"* that:
"There's no food more locally produced, more sustainable or more environmentally friendly than a mother's breast milk. It's been called the most 'food mile friendly' product there is. It's a naturally renewable resource and gives babies all the nutrients they need for around the first six months of life."
The article goes into more detail about why breastfeeding is environmentally friendly, including:
Breastfeeding requires no advertising, packaging, or transporting of products.
Energy is not required to produce the product (no heat, water, etc.)
Breastfeeding does not contribute to pollution as a result of manufacturing a product or disposing of materials that would be used in the manufacturing of products.
In a June 23, 2020, United States Breastfeeding Committee (USBC) webinar titled "A Conversation with Organizers of Global, National, and Community August Breastfeeding Events", presenters expanded on this year's theme:
"The interconnected nature of people and the planet requires that we must find sustainable solutions that benefit both. We can reduce our carbon and ecological footprints starting with how we feed our babies.
"Breastfeeding is one of the best investments in saving infant lives and improving the health, social and economic development of individuals and nations. Protection, promotion and support of breastfeeding are all important strategies."
Here are seven ways to celebrate World Breastfeeding Week and really, to celebrate breastfeeding any day of the year. As this year's theme reminds us, when we celebrate and support breastfeeding, we are playing a role in creating a healthier planet.
Participate in an event. August is typically full of a variety of events celebrating breastfeeding, and La Leche League Groups across the U.S. are planning virtual events for Live, Love, Latch! Find out more at lllusa.org/live-love-latch/.
Take a picture. Do you have pictures of yourself breastfeeding your little one(s)? Snap a "brelfie" and capture a memory.
Write it down. Record those moments shared by you and your nursling. Jot down a word or two describing snippets of your day. Write about the thoughts that pass through your mind during middle of the night feedings. Were you breastfed? Are there memories that your mother has that she can write down for you?
Show your support. Whether it's an encouraging smile or a cheerful greeting to another parent in public, or a helpful response online, let those struggling with doubt or a difficult day know they're not alone. Your words can make all the difference.
Inform the community. Consider donating breastfeeding friendly resources to your local library or to organizations/businesses that are frequented by families. If there isn't already a copy of The Womanly Art of Breastfeeding or a selection of children's picture books that portray breastfeeding, you could be the one to help expand their collection.
Normalize breastfeeding. What's the easiest way to do this? You got it! Nurse wherever you are – restaurant, store, park, etc. Share this part of your parenting with the community around you.
Take care of yourself. We tend to give and give to others without always thinking about ourselves. When you are touched out and tired, you can't care for your family the way you'd like to. It's probably not realistic to expect an afternoon by yourself, but perhaps you could step away for a few minutes while your partner or a friend or family member takes over. Take a walk through the neighborhood. Run through a drive thru for your favorite drink. If you can't get away for long, spend a few minutes reading a book, watching a video, or closing your eyes and listening to a song or two from your favorite soundtrack. Even a few minutes can prove refreshing.
*www.laleche.org.uk/breastmilk-and-the-environment/
---
Please send your story ideas to Amy at [email protected].
---
Supporting Breastfeeding Families–Today, Tomorrow, Always
Please consider donating to La Leche League USA.
Donations of any amount are gratefully accepted. Thank you!