Uyen's Story: Reflections On Weaning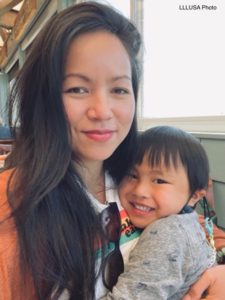 Uyen Tran, Half Moon Bay, California
Our breastfeeding journey finally came to an end. We had a small party to mark our milestone together. I am possibly the only one who is sad as I am always on the brink of tears lately. Last night I asked if he would want to "nip" (the word he used for nursing which was the combination of "nibble" and "sip" when he used to ask me so politely sometimes: "Can I have a little nibble?", "Can I have a little sip?"). He wanted to, but after only a few seconds, he pulled away and said there was no more milk. I asked him if he was sad, because I was. He turned away, laughed, and said, "I already ate all of it!"
Four years and three months was a long time. It seems short now that it is over. I'm thinking of the nights that I had to get up and prop myself up against the headboard of the bed to nurse that baby. I remember the pain, sleeplessness, restlessness, the road trip during which we had to take several nursing breaks, and all the times that he asked for nursing when he was hurt and upset, right before drop-off and after pick-up from the daycare. How precious it was from the first time he asked in Vietnamese "bu" until the time he understood that he had to wait.
It is hard to believe it is all behind us now. He seems to not care any less about it while I'm sitting here in our memories, finding it hard to not feel so conflicted, because there were times that I found nursing extremely exhausting, and that I couldn't bear it any more.
Here we are today, sitting at our usual nursing spot on the couch by the windows, and the boy still looks for ways to go inside of my shirt. He sometimes says, "I drank all of it" and motions his hands from "a lot" to shrinking to nothing. Other times, he asks me "Why is it stuck?"
"The milk?" I ask him.
"Yes, why is it stuck in there?"
I ask him if it wasn't "stuck" would he still "nip?" And he says yes!
He is still inside my shirt, not to nurse, but perhaps for the other reasons like before. He sometimes tells me he likes that my body is warm and, other times, asks me, "How does your body get so warm?" He rubs his cheeks against my skin, smelling it and still calling it his house as he also used to call "going inside my house" for nursing.
I was so touched when I first read from The Womanly Art of Breastfeeding: "Maybe weaning never happens completely." Maybe that is true. Maybe, it isn't the end of our journey, but of a phase, an era. I try to find comfort in knowing that a part of me is in him and will last him and protect him far beyond our last nursing.
As we only have here and now, and though sometimes I would rather sit comfortably and freely without a kid inside of my shirt, maybe I should just kiss his stinky head, be okay with feeling all my feelings, and embrace this day.
Resources
---
Please send your story ideas to Amy at [email protected].
---
Supporting Breastfeeding Families–Today, Tomorrow, Always
Please consider donating to La Leche League USA.
Donations of any amount are gratefully accepted. Thank you!
---
Follow us on: