Katelyn's Story: Overcoming mastitis and tongue-tie
My daughter was born after a beautiful, unmedicated vaginal delivery. My entire birth plan had gone exactly as I had hoped. She latched on within a few minutes of birth. Her latch was weak and my daughter was sleepy, but she was perfect. After giving birth to my son a few years earlier and seeing him whisked away to the neonatal intensive care unit (NICU), I cherished every wonderful second with my daughter in my arms, the way it was meant to be. When the lactation consultant visited, we discussed different positions and what to expect over the next few days and weeks. The nurses offered support and guidance with each visit. Everything was going well when we left the hospital.
When we were home, I started to notice some discomfort while nursing. I could never seem to get the latch deep enough, and after five or six tries I would give up and grit my teeth through the feeding. I woke up on the fifth day and before getting out of bed, I knew that my milk had come in. My breasts felt like melons and were very tender, which I was expecting, but they were very red. I felt pain deep in my chest, all the way to my back. After sitting up, I realized that things didn't feel right. The force of gravity caused more pain than I could tolerate, so I had to lie back down and call my husband to bring my daughter into the room. I could barely get her to latch, and the pain was excruciating when she did latch. As the day progressed, I could feel a fever coming on, along with a raging headache, and nausea and vomiting whenever I tried to sit up. My entire body hurt and my breasts were so engorged that I could barely lift my arms. By evening, I couldn't sit up or get comfortable enough to nurse my daughter or do anything else. My husband had to feed our daughter formula and care for both of our children completely because it was all I could do to lie flat on my back in bed.
On the next day, I felt worse. We found a thermometer that showed I had a temperature of 104.5°F. I knew I needed to see a doctor, but it was Sunday and I didn't think my condition warranted a trip to the emergency room. With regular doses of over the counter analgesics and fever reducers, I was able to keep my fever around 101.3°F during the day, but by evening I was breaking down. I finally called the hospital and talked to the on-call physician who diagnosed double mastitis. He immediately prescribed an antibiotic and scheduled my appointment for Tuesday. If only I had called sooner! Lesson learned.
I took the antibiotics for 48 hours before I started to feel well enough to sit up and hold my daughter. At this point, I hadn't been able to hold her—let alone nurse her—for over four days. I was so relieved to be with her that the last thing I wanted to do was spend the time pumping and building up my milk supply. I decided that I would just enjoy my daughter, continue to heal, and feed her formula.
After completing the 14-day course of antibiotics, the guilt hit me hard. I had pumped exclusively for my son for a full year due to unresolved latch issues. I felt that I had to at least offer my daughter the same start to life, even if I couldn't get her back to the breast. So I began to pump. I pumped every two hours. I pumped less than an ounce total during that very first day. My goal was to pump for two weeks. If I didn't see any progress then I would be content to bottle feed and know that I had tried my best.
Five days into my relactation journey, I had mastitis again. This time I knew all of the warning signs and was able to start antibiotics right away. I started to feel better within 48 hours of the initial symptoms, and within 24 hours of beginning the antibiotics. To my surprise, two weeks into pumping I was pumping over ten ounces per day! One month later I was pumping 25 ounces per day. I finally felt ready to try breastfeeding again.
My daughter was almost two months old and still very willing to take the breast. She would eagerly latch on, but the latch was very shallow. During this time, I had mastitis again. The doctor concluded that the infection was being transferred through my damaged nipples. During this round of treatment for mastitis in my left breast, I actually got mastitis on the right side. This led to a trip to the emergency room where I was given antibiotics intravenously and sent home.
This is when I decided that it was more important for my daughter to get breast milk than it was for me to be able to breastfeed. I decided to exclusively pump for my daughter as I had done with my son. I decided that I would stop pumping entirely and begin hand expressing in order to minimize the risk of bacteria entering my body through my nipples.
In the world of exclusive pumping or hand expressing, an oversupply is a bonus. The more milk produced, the less stress there is about feeding the baby. Freezing the excess milk is a goal for many mothers. It serves as peace of mind during those growth spurts or when the baby is extra hungry. While exclusively hand expressing, my milk supply increased to more than double her daily needs. This meant that I was feeding her and putting a full day's worth of milk in the freezer. By the time she was three months old, I had over 1,000 ounces in the freezer that was quickly running out of space.
At a Fourth of July party, a fellow attendee asked why I didn't feed my daughter directly from the breast. I explained my choice but began to question myself. Maybe her mouth had grown enough to compensate for her weak latch? Maybe her latch was the result of a tongue-tie? Can that be fixed? Will it get better with time? Would a nipple shield help? Why was I struggling when so many other women didn't have these problems? So I made myself another goal. I told myself I would give it one last try. If it didn't work, then I would know I had given it all of my effort. I scheduled an appointment with an ear, nose, and throat specialist (ENT), a lactation consultant, and a pediatric dentist. I bought a nipple shield. I began to offer the breast with a nipple shield once a day when she was in a happy mood. My goal was to encourage her to take the breast and to enjoy being at the breast. After more than three months of bottle-feeding, I knew it might be a challenge. I wasn't concerned yet whether or not she was able to get a feeding in, so I continued the regular hand expression cycle and gave her a bottle of breast milk when she was hungry.
Within a week, she nursed without a fuss for a full feeding, when I offered each breast once a day. It was excruciatingly painful, but with the nipple shield I only had slight bruising and blistering on the tip of each nipple. By the end of the second week, she took two full feedings a day at the breast, and the pain began to fade. My toes still curled at the initial latch, but after 30-60 seconds I was able to relax, and it was slightly uncomfortable. During the third week, I met with an ENT specialist. He told me that there was nothing anatomically wrong with her mouth and that some babies just couldn't nurse. I refused to believe this, so I decided it was all or nothing. I started offering the breast at every feeding. If I was feeling tense or dreading the next feeding, I would give her a bottle and not stress about it. The hardest part was reminding myself that there was no pressure and that I needed to cut myself some slack. This was all new territory for both of us.
By the end of the fourth week, we were exclusively breastfeeding using a nipple shield. Then I was railroaded by mastitis for the fifth time in a little over three months. Fortunately, this time I was able to nurse through it. The mastitis cleared up faster than the other times. I found that the more I nursed her the less it actually hurt.
Around this time, I had my appointment with a pediatric dentist. She confirmed my suspicions that my daughter had a posterior tongue-tie. She offered to release the tongue-tie with a laser. I decided that since we had made progress on our own over the last week or so, I would not put her through that procedure. It seemed that the larger her mouth grew and the more practice we had, the more comfortable nursing became without any intervention. If I had known about her tongue-tie and been able to get an appointment soon after birth, I would have done so without hesitation.
We went home and I felt so relieved. I felt like all of my struggles had been justified by her diagnoses. Looking at the symptoms of a posterior tongue-tie, I couldn't believe it hadn't been diagnosed earlier. Together, we had nearly every symptom in the book from frequent mastitis, to an unexplainably painful latch. If only I had known sooner!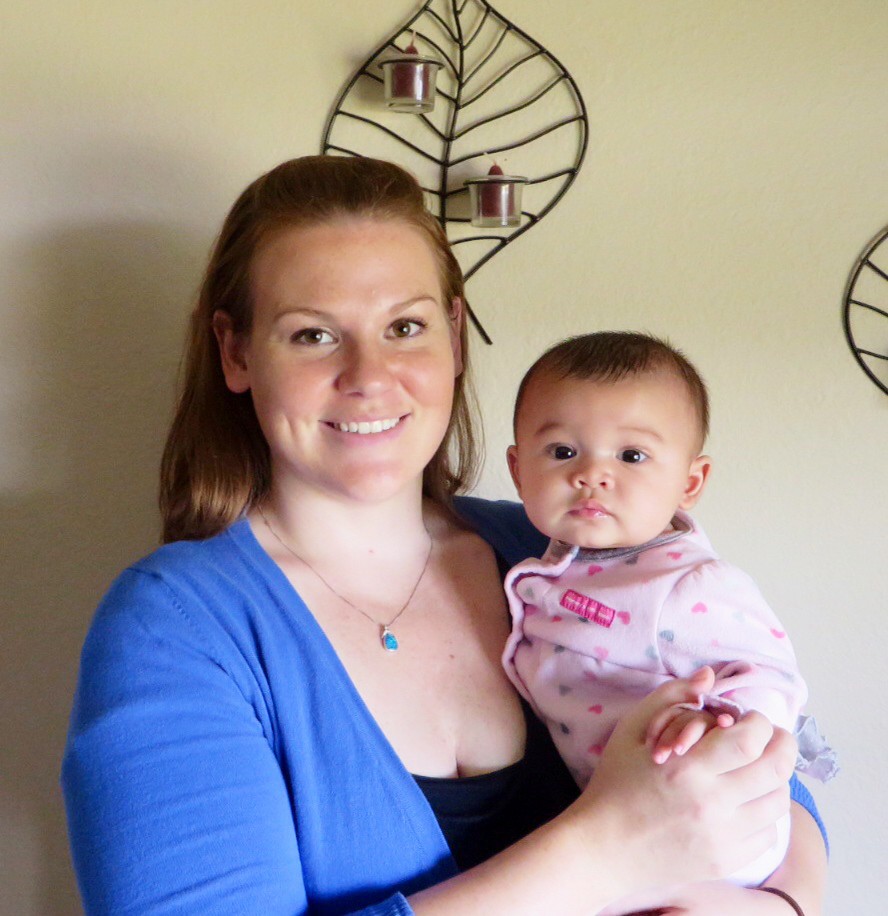 I stopped using the nipple shield when my daughter was just over four months old, which was about a week after we were exclusively breastfeeding. It was slightly uncomfortable at first but no longer toe curling! I am so thankful that weaning from the nipple shield was not a struggle. Every day became less and less painful. Within a couple weeks it was almost entirely painless: a word I never thought I would use to describe breastfeeding.
I have never been one to take the easy way out, and in this case I am so glad that I was able to keep trying to breastfeed. I am so thankful for the support of the local La Leche League Leaders and the mothers in the local LLL Group. The women in this group understood how important breastfeeding was to me and knew how far a mother is willing to go for her children. My daughter is almost five months old now, and this is not the end of our breastfeeding journey. I wanted to share the beginning of our story because I hope it can inspire others to keep going, find support, and know that they are not alone in their struggles.
Katelyn Lacsamana, Duluth, Minnesota