Making It Work: My Job As A Firefighter
Cindy Fagiano, Chicago, Illinois
Editor's Note: Cindy's story was originally published in the January-February 1999 issue of New Beginnings. In the 24 years since Cindy's story first appeared, it's not nearly as uncommon for firefighters to combine their work with pumping or breastfeeding, as Cindy did. Yet, there are still many jobs today that require a little more creative thinking for those who are human milk feeding. Have you experience this? We'd love to hear from you and share your story in a future blog post. Contact Amy at [email protected].
---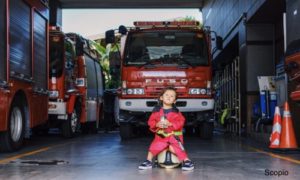 I have two children: Rocco and Carissa. I returned to work as a firefighter for the city of Chicago when each of my children was three and a half months old. As a firefighter, I work for 24 hours and then I am off the next 48 hours.
I worried about my breastfeeding relationship with my firstborn son, Rocco. How would this work with me being gone 24 hours straight? I had never heard about pumping milk until I attended LLL meetings in Buffalo Grove. Annette, the Leader of the Group, showed me how.
It was difficult at first. When Rocco was a baby, I was working at a different fire house every other workday. My regular assignment had great facilities. The female firefighters had their own separate sleeping quarters and shower facilities, which made pumping comfortable. However, that fire house was filled to capacity and everyone took turns being detailed out to other locations. Most fire houses do not have separate quarters for women. At the other fire houses, I had to use the community bathroom facilities and lock everyone out for the 20 minutes I needed to pump. I pumped about eight times per 24-hour shift in the early months and five times per shift as my babies got older. I usually pumped a total of 32 ounces of my milk during the time I was away from my babies.
With my second child, Carissa, I transferred to a different fire house where I again have separate quarters, and no details to other locations. It's less stressful and I'm a lot calmer. I have had virtually no problems with this nursing relationship. Either my husband or my mother cares for Carissa while I am gone.
When I'm home, Carissa wakes up once per night, with frequent daytime nursings. I bring her in bed to nurse and she wakes up happy with a beautiful smile on her face. When I'm working and get off in the morning, she normally is waiting for me to come home and nurse her. She'll bypass that bottle of expressed milk because she seems to know that I'm coming home.
Both my children are happy and healthy. I hope my story can help others who want to combine breastfeeding with a unique job.
---
Please send your story ideas to Amy at [email protected].
---
Supporting Breastfeeding Families–Today, Tomorrow, Always
Please consider donating to La Leche League USA.
Donations of any amount are gratefully accepted. Thank you!
---
Follow us on: